2018 a rough year, 2019 to be even tougher
2018 a rough year, 2019 to be even tougher
6 March 2019
THE PROOF is in the pudding, with the latest Australian Bureau of Statistics figures showing a 6.2 per cent slump in total building work completed in Queensland in 2018 (January – December).
Equating to a total decrease of $1.34 billion for the year, the decline was felt across the board, with completed houses down a total of 4.2 per cent and multi-units down 16.2 per cent.
While renovations were up a healthy 13.6 per cent, according to Master Builders Deputy CEO, Paul Bidwell it wasn't enough to stop the residential sector from suffering a 7.2 per cent drop.
"The good news was we saw a 40 per cent increase in non-residential government spending. Despite being off an extremely low base, if continued, this will hopefully mean a better year for struggling commercial builders," Mr Bidwell said.
"The latest building approvals lead us to believe that 2019 is going to be even tougher than 2018. January figures show that the number of approvals have dropped below 40,000 for the first time since mid-2014.
"Across the board, approvals are down 11.2 per cent over the past 12 months. The housing sector continues its downwards slide (6.2 per cent decrease) and unit approvals have taken another big hit, down 18.7 per cent.
"But early insights paint a different picture for non-residential building in 2019. The sector saw a 70 per cent surge in approvals for January. This is despite a 6.8 per cent drop over the whole year (February 2018 – January 2019).
"Looking ahead we'll continue to work with state government to increase demand for new construction through initiatives like our call to Bring Back the Boost to the Queensland First Home Owners' Grant, addressing land supply and finance problems, and improving regulation around paying and getting paid."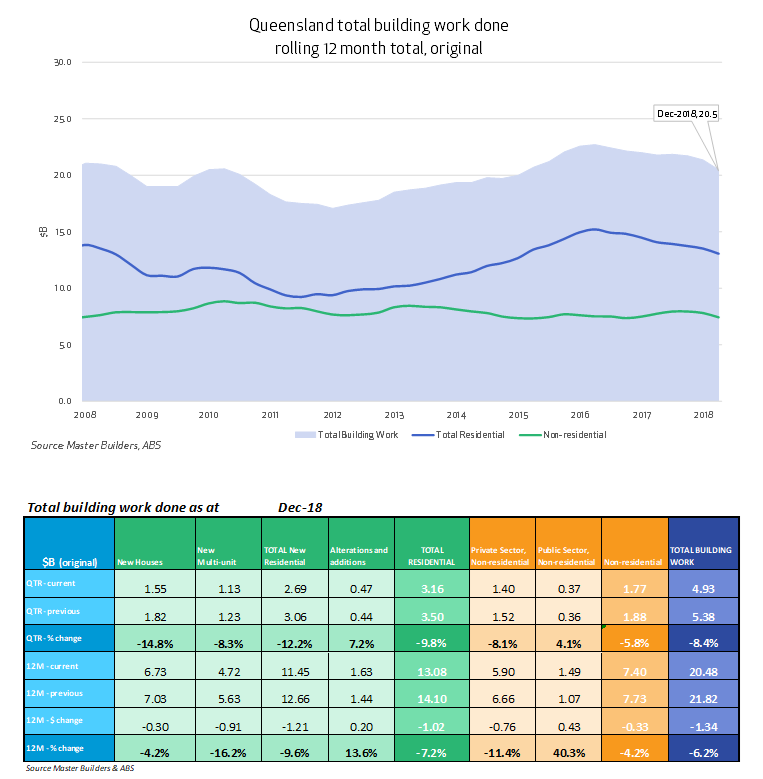 Media enquiries
Christine Buzzard, Digital Communications Advisor via email or 3225 6418
Julie Russell, Manager Communications & Media via email or 3225 6436
Leah Kidd, Communications Advisor via email or 3225 6424