Building numbers bleak as election looms
Building numbers bleak as election looms
14 May 2019
BUILDING figures have gone from bad to worse, with numbers from the Australian Bureau of Statistics released a week out from the federal election showing a massive 19 per cent plummet in dwelling approvals over the 12 months to March this year.
Most alarmingly, housing numbers were down 13 per cent over the past 12 months; a drop Master Builders Deputy CEO, Paul Bidwell says hasn't been seen since the depths experienced in 2012 in the fallout of the Global Financial Crisis.
"The drop is largely due to lack of confidence and constrained finance. Home lending experienced a fall of 11 per cent over the past 12 months; a figure below the 10-year average for the first time in four years," Mr Bidwell said.
"While there are no signs either of these factors will change anytime soon, the fall will be partially offset by the Federal Government's First Home Loan Deposit Scheme announced on the weekend, which the Labor party has committed to as well.
"We've seen a scheme like this work before, with the $5,000 boost to the First Home Owners' Grant generating an extra 2,990 new dwellings each year in Queensland for the two years it was in place from 2016 to 2018.
"But despite the improved outlook this may bring, if Labor wins on Saturday our industry will be hit hard by the impact of changes to negative gearing and capital gains tax. Proposed policy changes by the Labor party will mean an approximate $2 billion reduction in construction activity in Queensland over five years, with 6,100 fewer dwellings built (over five years) which will result in a loss of 6,300 jobs.
"In Queensland, new construction will also be weighed down by the new Waste Levy, the new complicated payments regime and proposed increases to the QLeave levies, which will all add to the cost of building.
"In a time of uncertainty and great change for our industry, we need both sides of government, at both a state and federal level, to help us get on with the job of building the new homes that Queenslanders need.
Now is not the time for any level of government to be introducing changes that will increase the cost of doing business.
"We will also continue to fight for more investment in public buildings and engineering construction, ensuring the future prosperity of our state and to ensure we meet the needs of Queensland's growing population spread.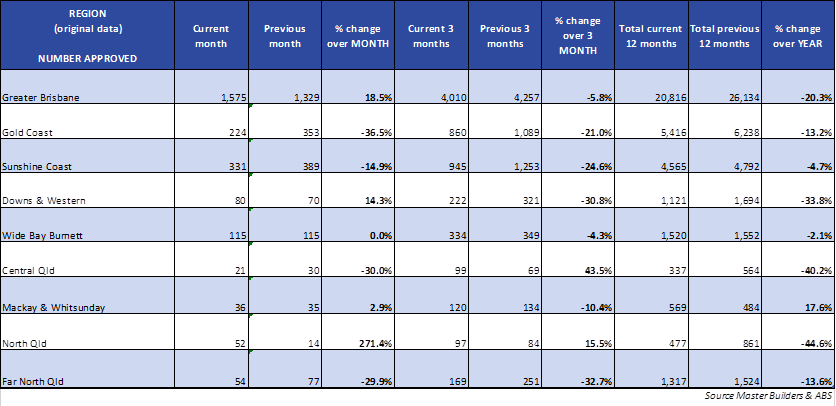 ENDS
Media enquiries:
Christine Buzzard, Digital Communications Advisor at christine.buzzard@mbqld.com.au or 3225 6418
Julie Russell, Manager Communications & Media via email at julie.russell@mbqld.com.au or on 3225 6436
Leah Kidd, Communications Advisor at leah.kidd@mbqld.com.au or 3225 6424