Housing industry in freefall
Housing industry in freefall
17 July 2019
The outlook for the Queensland housing industry is grim and getting grimmer, with dwelling commencements down to just 39,000 for the last 12 months. This is the first time housing starts have dropped below 40,000 in the last five years.
The newly released data from the Australian Bureau of Statistics (ABS) supports what the industry has been feeling for the last year, and Master Builders Deputy CEO, Paul Bidwell said the industry is wondering when things will turn around.
"The ABS figures paint a bleak picture at the moment, not only are commencements at a considerable low but the total dwelling approvals are also down 20% for the 12 months to May," Mr Bidwell said.
"Despite this there are a range of recent factors that could increase economic growth.
"Things like the latest tax and interest rate cuts may influence confidence and its good news that we no longer have the specter of negative gearing and capital gains tax changes hanging over our heads.
"There is also a small sense of hope within Regional Queensland as for the first time in a long time, all regional centres enjoyed a rise in dwelling approvals over the last month," Mr Bidwell said. "While we're welcoming this (dim) light at the end of the tunnel, it is unfortunately somewhat offset, by some negatives at a state level. The effects of the new waste levy, the tranche of building industry payment regimes and the Professional Indemnity (PI) Insurance challenges are all being felt."
Mr Bidwell said these changes have compounded to create uncertainty and add costs to buildings and projects.
"The reality is, the housing sector is in a state of freefall but we are hopeful that economic conditions will turn around; the question just remains when we'll see that change.
"Our message to all levels of government remains to consider the outlook for our industry when making any policy decisions."
REGIONAL: NUMBER NEW DWELLINGS APPROVED PERCENTAGE CHANGE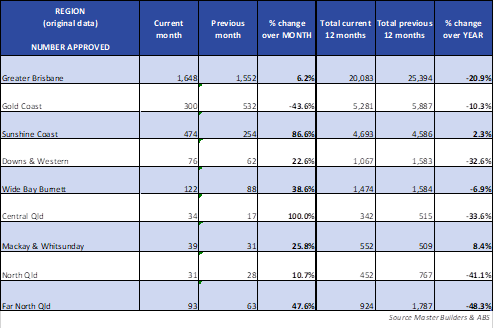 Media enquiries:
Robyn Devine, Digital Communications Advisor at robyn.devine@mbqld.com.au or 3225 6418
Julie Russell, Manager Communications & Media via email at julie.russell@mbqld.com.au or on 3225 6436
Leah Kidd, Communications Advisor at leah.kidd@mbqld.com.au or 3225 6424