No beef with Rocky's 'bull by the horns' approach to housing crisis
No beef with Rocky's 'bull by the horns' approach to housing crisis
30 July 2019
Today's Building Approvals from the ABS support Rockhampton Regional Council's recent decision to introduce a new home builder's grant.
Announced last week, the $5,000 grant will be available to all current residents building a new home and could just be the kick-start the Rockhampton housing market needs to turn a corner.
Master Builders Deputy CEO, Paul Bidwell says Master Builders supports the incentive, explaining that recent building approvals demonstrate it's the right time to act and provide measures that stimulate demand.
"Building approvals in Queensland remain in free fall, with the latest figures unfortunately not changing the grim story," Mr Bidwell said.
"Building approvals for June 2019 plunged by 24% for the 12 month period, from 43,515 to 33,053.
"Last month also saw most of regional Queensland suffer a loss over the 12 months, with Central Queensland suffering a 33.6% drop which has seen the local industry at its knees.
"By making the decision to act locally, Rockhampton is leading the charge in providing local residents with the opportunity to build a new home. We know that $5,000 can often be the difference, particularly for first home buyers, between building a new home or not.
"We're calling on other regional councils to consider the same and offer new home building incentives to their residents."
Master Builders called on the Queensland Government to reintroduce the $5,000 First Home Owners Grant Boost to regional Queensland as part of the 2019 State Budget.
"Unfortunately, we weren't successful in having the boost reinstated as part of the recent Budget, but it's not too late for the Queensland Government to change its mind.
"Rockhampton's decision to introduce the incentive locally will be a great opportunity to test the waters for how successful the incentive is in creating demand and providing a foot in the door for new home owners.
"If successful, we'll definitely urge the Queensland Government to bring back the Boost across regional Queensland."
BUILDING APPROVALS – QUEENSLAND JUNE 2019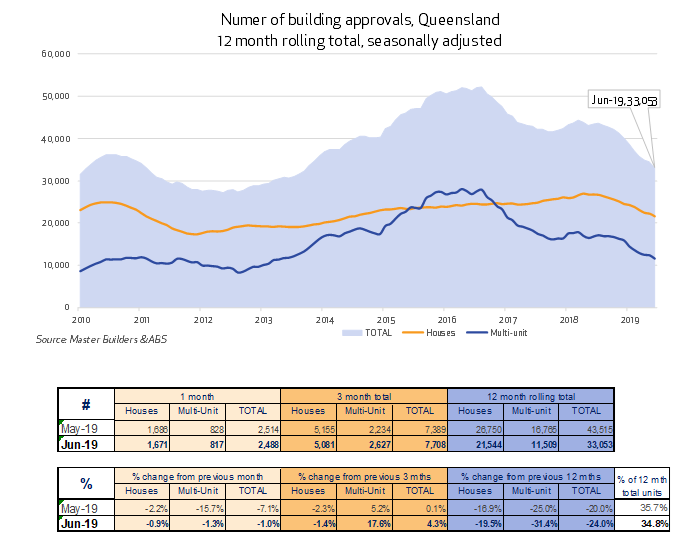 ENDS
NOT FOR PUBLISHING: A regional breakdown of the June 2019 Building Approvals is not currently available. Figures scheduled for release by the ABS next week.
Media enquiries:
Robyn Devine, Digital Communications Advisor at robyn.devine@mbqld.com.au or 3225 6418
Julie Russell, Manager Communications & Media via email at julie.russell@mbqld.com.au or 3225 6436
Leah Kidd, Communications Advisor at leah.kidd@mbqld.com.au or 3225 6424