Master Builders responds to State Budget 2019-20
Master Builders responds to State Budget 2019-20
13 June 2019
A BUDGET that edges a step closer to the 25-year-average for capital expenditure gets the tick of approval from Master Builders.
Master Builders Deputy CEO, Paul Bidwell welcomed the increase in funding for new public buildings and infrastructure.
While the $10.2 billion allocation in the 2019-20 State Budget is a welcomed $1.4b rise from the $8.8b spent in 2018-19, Mr Bidwell said it was still short of the 25-year-average for Queensland.
To ensure our state gets the essential public buildings and infrastructure it's imperative that the government commits to achieving the 25-year-average.
But beyond the shortfall, Mr Bidwell said the single most important thing government could do for Queensland communities was to make sure that they spend what they've allocated in the Budget.
In 2018-19, the government spent about $8.9b, $200 million less than what had been budgeted. Across the past four years the government has underspent to the tune of $4.7b.
"As a result, thousands of potential jobs across the state have gone begging," he said.
Mr Bidwell said weak demand for new housing warranted stimulus measures for builders in the housing sector – specifically those in regional Queensland who are desperately looking for some good news.
Australian Bureau of Statistics data for the 12 months to April 2019 shows dwelling approvals have dropped 19 per cent. In the regions the results are even worse with falls in the order of 30 to 40 per cent. The local builders cannot be expected to continue without a turnaround in their fortunes.
"Ahead of budget, we asked the Treasurer to bring back the $5,000 Boost to the First Home Owners' Grant (FHOG) for regional Queensland.
This, combined with increasing capital expenditure ­­­­– back towards the 25-year- average and actually spending what was allocated in the Budget, would have increased demand for new construction, creating a wave of investment and jobs.
But that was not to be.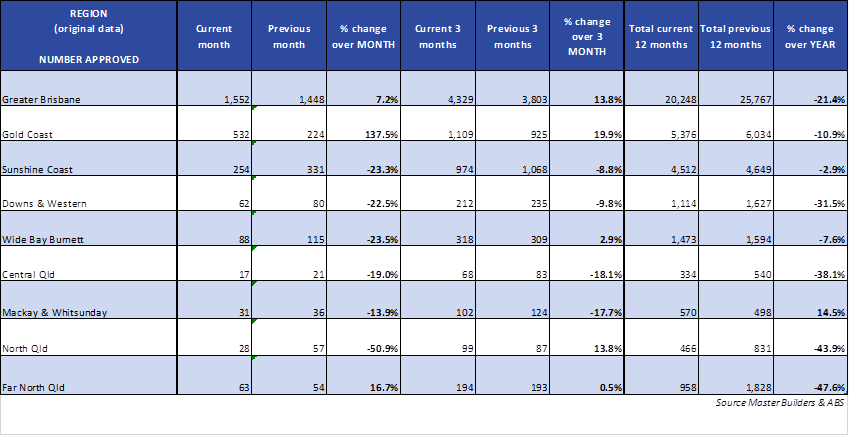 ENDS
Media enquiries:
Leah Kidd, Communications Advisor at leah.kidd@mbqld.com.au or 3225 6424
Christine Buzzard, Digital Communications Advisor at christine.buzzard@mbqld.com.au or 3225 6418
Julie Russell, Manager Communications & Media via email at julie.russell@mbqld.com.au or on 3225 6436