18 June 2018
Master Builders cautiously welcomed the Queensland Budget, but warned it's a mixed bag for the building industry. Here's our take on the highlights for building and construction.
First Home Owner's Grant
The boost to the First Home Owner's Grant has not been extended and will return to $15,000 from 1 July 2018.
This is a blow for the housing sector and many first home buyers looking to get a foot in the door. With first home buyers numbers already on the decline there is no doubt that this decision will have a detrimental impact on a number of Queensland building businesses.
Capital budget
There is good news for the commercial sector in the increase in infrastructure spending.
The $45 billion has been allocated over the next four years. For the 2018-19 capital program this means $11.6 billion, an extra $1.5 billion from the current financial year. We've been calling on the State Government to increase expenditure on public sector building and construction – residential and non-residential buildings together with engineering construction – to reach the 25-year average as a proportion of GSP. This budget is a step towards that goal.
Also important for the construction industry is how much of the total spend is allocated to new public sector buildings. While the government's headlines have focused on increases for education and health facilities, the detail reveals that the majority of the increase has been allocated to spending on road, rail and port infrastructure. Almost half the increase ($604 million) is to be spent on Cross River Rail.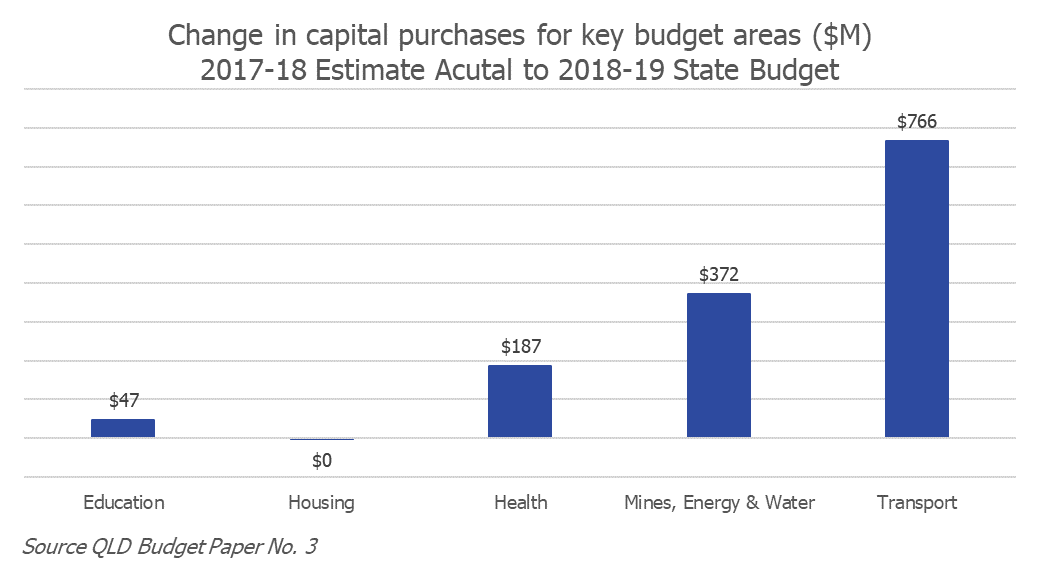 Capital underspend
The government has headed our call to ensure that the allocated budget is spent.
In previous years the government has failed to spend a significant proportion of its full budget allocation, which has been a missed opportunity when it comes to jobs and delivering infrastructure that Queenslanders need.
In this year's budget there has been a commitment by the government to reduce the underspend and for the current financial year (2017-18) it is significantly smaller than previous years. However, it is still remains at an estimated $333 million which equates to a significant 3,077 missed job opportunities.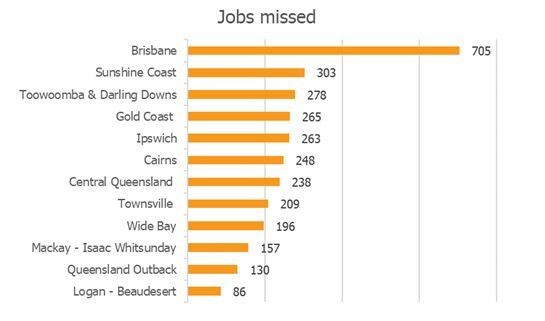 Waste levy
The reintroduction of a waste levy for Queensland will have a direct impact on householders looking to buy or build a new home or renovate an existing house. The levy, proposed to be introduced from March 4, 2019 at $70 per tonne, will add up to $1,400 to the cost of a new house or renovation project. With no new opportunities or infrastructure for builders to increase recycling, their options are limited to further squeezing margins or increasing prices.
Property tax increases
Despite the huge downturn in foreign investment in new construction, the government has further slugged these investors with another hike in the stamp duty. The Additional Foreign Acquirer Duty, introduced in 2016 has been increased to 7%. Research by the Property Council has found that that the revenue expected to have been collected by the tax equated to less than 1% of the overseas economic contribution Queensland lost between 2015-16 and 2016-17.
Land tax increases for large land holders (over $10 million) will also feed into the cost of land for housing, increasing the cost of a new home by an estimated $800-$1000.
Other measures
The increased payroll tax rebate (from 25% to 50%) for apprentices and trainees will continue for another year.
The WorkCover premium discount for small-to-medium size businesses employing apprentices has been extended for the 2018-2019 financial year.
Read the media statement.
Key budget forecasts
The budget recorded a better than expected surplus of $1.5 billion in 2017-18 from the boost to coal revenues. This is expected to reduce to $148m in 2018-19 as the government embarks on its expend infrastructure program.
Queensland's economic growth is expected to improve, increasing to 3.0 percent – in 2018-19, before returning to 2.75 percent in 2019-20.
The state's unemployment rate is estimated to be 6.25 per cent in 2018-19 (no change from last year) and is forecast to drop to six per cent in 2019-20.
Population growth is forecasted to continue the modest uptick of 1.75 per cent.
Key regional commitments
Far North Queensland
$239m to be spent statewide on Remote Indigenous Housing
$26.4m towards the Cairns Performing Arts Centre
$26.3m for local government maintenance and minor infrastructure works
$24.4m for maintenance and capital works projects on FNQ schools
$9.5m towards the Atherton Hospital Redevelopment
$4m to build Cape York Splash Parks
$2.1m towards the upgrade of the Horn Island Rural Fire and State Emergency Service facility
$1.5m towards the construction of the Kowanyama Men's Shed and Women's Meeting Place
$1.3m for Torres Strait Primary Health Care Centre redevelopment
$900k towards the replacement of the El Arish auxiliary fire and rescue station
$800k towards the redevelopment of the Aurukun Primary Health Care Centre
$400k towards a replacement for the Mareeba ambulance station
North Queensland
$120m to continue construction of the North Queensland Stadium
$27.4m for maintenance and capital works projects in regional schools
$26m to redevelop, refurbish and expand TAFE facilities
$17.1m for local government maintenance and minor infrastructure works
$7.7m towards the new Palm Island Primary Health Care Centre
$6.3m to continue work on the new North Shore State School
$6.3m for a residential development in Oonoonba Priority Development Area
$5.5m to continue the redevelopment of the Townsville Hospital
$3.7m to continue the Townsville Courthouse upgrade
$2.4m for staff accommodation at Hughenden and Richmond Hospital
$2m for a new Mount Isa Fire and Emergency Service area office
$1.7m towards a new hall for Kirwan State High School
$1.2m towards the replacement of the Richmond fire and rescue station
$400k to refurbish the Palm Island Sports Precinct
Mackay & Whitsunday
$22.4m for maintenance and capital works projects in regional schools
$10.5m to continue the Whitsunday Airport upgrade
$7.5m to develop new visitor facilities at the Whitsunday Island National Park
$5.5m towards the redevelopment of the Sarina Hospital
$3.5m to help establish the Salisbury Plains Industrial Precinct
$3m towards the construction of the Moranbah Youth and Community Centre
$1m to upgrade the Whitsunday Sports Park
$1m to upgrade the Clermont Saleyards and Showgrounds
$1m for a new Mackay Skate Park
$500k to improve netball facilities in South Mackay
$391k to complete the replacement of the Bowen Police Station
$390k to refurbish the staff accommodation at the Clermont Health Service
Central Queensland
$30.9m for maintenance and capital work projects for Central Queensland schools
$26.8m to continue works on Gladstone Hospital Emergency Department
$15.7m to complete the Rockhampton Hospital Carpark development
$11.9m for local government maintenance and minor infrastructure works
$6.7m towards infrastructure improvements on Great Keppel Island
$5.7m for renovations to the North Rockhampton Nursing Centre
$5m towards the Rockhampton CBD development
$2.2m for improvements to the Australian Workers' Heritage Centre
$1.7m towards the refurbishment of the Boulia Community Hospital
$1.2m towards the redevelopment of the Blackall Hospital
$1m towards a new Rockhampton Drug Rehabilitation and Treatment facility
$800k towards the upgrade of the Rockhampton fire and rescue station
$496k towards the upgrade of facilities at the Emerald Botanical Gardens
Wide Bay
$31.4m to expand and improve social housing in Wide Bay
$22.1m for maintenance and capital works projects for Wide Bay schools
$20m for the redevelopment of the Kingaroy Hospital
$16.6m for local government infrastructure works
$13.5m to complete the Mon Repos Turtle Centre redevelopment
$11.9m to complete the new Emergency Department at Hervey Bay Hospital
$7m to refurbish the Maryborough Hospital Emergency Department
$3.7m to complete Gayndah Hospital refurbishment
$3m business case for a new or substantially-refurbished Bundaberg Hospital
$2.9m to replace the East Murgon Neighbourhood Centre
$1.8m for new staff accommodation at Mornington Island Hospital
$1.3m to complete the Step-up Step-down Mental Health Facility in Bundaberg
$1.1m for the Elliott Heads Foreshore redevelopment
$900k towards the replacement of the Kilkivan auxiliary fire and rescue station
$800k to replace the Wooroolin auxiliary fire and rescue station
$775k to replace the Howard police, fire and emergency services facility
$422k to complete the Eidsvold Multi-Purpose Health Service refurbishment
$359k towards the replacement of the Childers auxiliary fire and rescue station
$300k towards a new Hervey Bay ambulance station
Sunshine Coast & Moreton Bay
$106.8m for maintenance and capital works projects for regional schools
$23.7m for an ongoing program of upgrades to the Redcliffe Hospital
$11.7m to complete the new Caboolture police station and district headquarters
$8.8m for the expansion of the Caboolture Hospital Emergency Department
$6.9m towards the Nambour Hospital redevelopment
$5.9m towards the Caloundra Hospital refurbishment
$7m to redevelop the University of the Sunshine Coast Stadium
$1.9m Lawnton Train Station Park'n'Ride upgrades
$1.8m for infrastructure upgrades at the site of the Woodford Folk Festival
$1.6m to improve visitor facilities at the Glasshouse National Park
$1.3m for a replacement police station at Kilcoy
$1m for an emergency service facility at Maleny
$500k for a counselling centre at Palmwoods (Daniel Morcombe Foundation)
Darling Downs
$50.7m for maintenance and capital work projects for Darling Downs schools
$40.1m towards the Roma Hospital redevelopment
$20m towards the Kingaroy Hospital redevelopment
$4m to upgrade Toowoomba TAFE facilities
$3m for the Toowoomba Hospital Redevelopment business case
$3m towards the upgrade of the Charlton fire and rescue services
$1.2m towards the construction of a new ambulance station at Drayton
$870k to replace the Stanthorpe Hospital roof
$800k towards the replacement of the Yarraman auxiliary fire and rescue station
$751k to finish upgrade of the Dalby Civic Centre
$500k towards the refurbishment of the Charleville Fire and Emergency Services office
Brisbane
$183.5m for maintenance and capital work projects for Brisbane schools
$16m towards the urban renewal of Northshore Hamilton
$16m to begin the Yeerongpilly Green Transit Oriented Development
$15.6m to continue work on the State Netball Centre
$13.2m to start the $45.5m replacement of non-conforming cladding on the PA Hospital
$10m towards the refurbishment of the Thomas Dixon Centre (Queensland Ballet)
$5m to begin work on a new QPAC venue
$4.1m towards the upgrade of the Salisbury Train Station Park'n'Ride
$3.5m for Redland Hospital upgrades and additional works
$2.5m towards the Zillmere Sports Centre
$2.5m for new visitor facilities at North Stradbroke Island
$2.4m towards the upgrade of the Eight Mile Plains Bus Station Park'n'Ride
$1.9m towards the redevelopment of Boggo Road Precinct
$1m towards the replacement of the Chandler fire and rescue station
Ipswich
$63.8m for maintenance and capital works projects on Ipswich schools
$10.6m towards a Wacol Counter-Terrorism and Community Safety Training Centre
$5.2m to refurbish the heritage buildings at the Wacol police facility
$4.6m towards the Willowbank Industrial Development
$3.1m to replace the Inala Community Centre
$3m towards the upgrade of the Darra Station Park'n'Ride
$2.8m for the detailed planning to redevelop the Ipswich Hospital
$1.9m towards the construction of the Rosewood Library
$800k towards the replacement of the Esk auxiliary fire and rescue station
Logan
$55.5m to expand and improve social housing
$46.1m for maintenance and capital works project for Logan schools
$9.1m towards the redevelopment of the Underwood Sports Park
$4.3m towards the upgrade of the Greenbank Bus Park'n'Ride
$3.7m for the Beenleigh Courthouse upgrade
$1.7m for the replacement of the Rathdowney auxiliary fire and rescue station
$1.5m for the redevelopment of the Beenleigh Aquatic Centre
$1.2m for new ambulance and fire facilities at Yarrabilba
$500k for upgrades of the West Logan fire and rescue station
$500k for new facilities at the Jimboomba Redbacks Club
$400k to upgrade the Logan Village Neighbourhood Police Beat
Gold Coast
$81.7m for maintenance and capital work projects on Gold Coast schools
$38.4m to expand and improve social housing
$8m to begin Robina Hospital upgrades
$4.5m for improvements at the Gold Coast Recreation Centre
$3m to begin development of the Gold Coast Parklands Health and Knowledge Precinct
$2.4m towards a new police facility at Arundel
$800k to upgrade visitor facilities at Springbrook National Park
$713k for visitor facilities at Lamington National Park
$648k towards repairs at the Gold Coast Convention and Exhibition Centre
$500k towards a new Pimpama fire and rescue station