11 December 2018
INSTAGRAM proved the platform of power for Corella Construction in taking out the first ever People's Choice award at the Queensland Housing & Construction Awards.
The award was introduced in 2018 to put the power of judging in the hands of Master Builders' members, their clients and the broader community.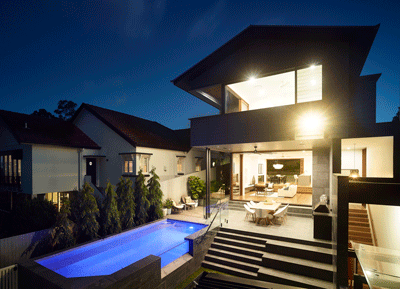 This year 80 eager entrants, made up of the Individual Home category winners from Master Builder's regional awards program, vied for the title.
Nominees wildly promoted their projects and the response was overwhelming. From social media to texts, emails and letters, entrants pulled out all stops to shout their entry from the rooftops. Thousands of votes came rolling in and it was truly a race to the finish.
Brisbane-based Corella Construction owners, Ella and Craig Brown said they utilised their "large, captive and highly engaged" Instagram audience to grow votes and ultimately take home the highly sought-after award.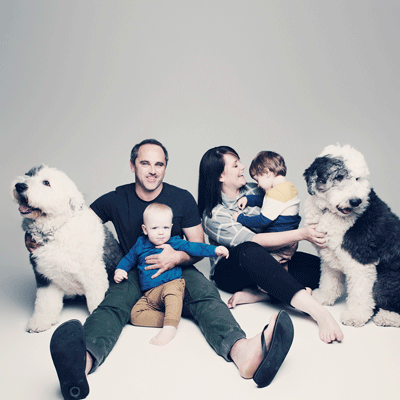 "We can see through our follower list that most of our previous, current and future clients are all following us on Instagram, as well as our team and our subcontracting teams," Ella said.
"We knew that was our number one way to target our audience.
"We used Instagram stories and posts to communicate to the universe – or at least our Instagram universe – that we were up for a nomination."
Ella said she promoted the link to vote on several occasions in their stories and updated their Instagram bio with a direct link to their entry too.
"We went in waves with our promotion and showed pictures of the house as part of the process," she said.
Their winning entry, Vine House, a two-level home on a sloping lot at Bardon was unlike any build Corella Construction had taken on before.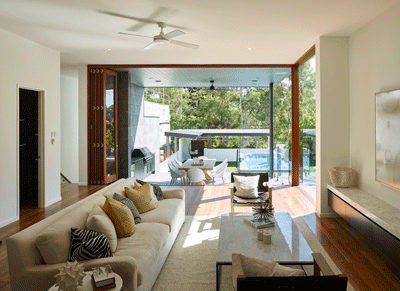 "The block itself was quite challenging from a gradient perspective. We needed to be creative in the design. You couldn't just put a two storey house on the block," Ella said.
"There was a lot of cut and fill and retaining walls. We needed a house where you didn't end up with a giant driveway because it's a small, inner city Brisbane lot and they're worth a lot of money. You want every square metre of your land to count and be functional.
"We had the garage built in and reclaimed the roof space over the garage. That was turned into an outdoor space, creating liveable zones. We put a pool on the garage with glass sides and had a split level home; things you don't get to do on a flat block."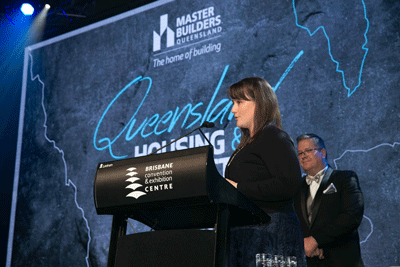 She said with cutting into the block and building retaining walls, access was a huge challenge during the construction of the house.
"I think our crane company was one of our favourite and most hotly phoned people during the construction phase," she said.
"You had to be thoughtful and calculated on who you got in when. We had to work back to front – the backyard was landscaped well in advance then we had to work our way out of the site.
Ella said for her it was the landscaping that brought Vine House to life.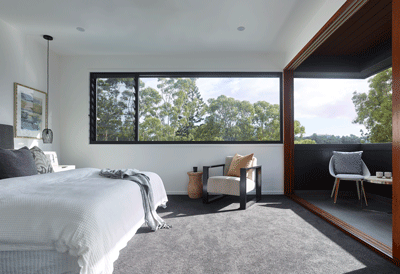 "We poured so much concrete and blockwork into that site, it's felt like we were going to be in a concrete jungle," she said.
"When the landscapers took over and this lush green appeared, it went from concrete and blockwork to a lush, tropical jungle. It transformed everything and put a beautiful finishing touch on the house."
Built on a split lot, Vine House is part of a three-part series for Corella Construction with adjoining Butter House, recently complete and Bear House still under construction.
"I love and cannot wait to share with what we've done with the streetscape," she said.
"We'll be entering them into the 2019 Housing & Construction Awards and hope to be back in the running for the People's Choice Award with these properties," she said.
She said the two homes looked to be hot contenders for People's Choice.
"Both Bear and Butter House have actually been snapped up and sold before they're even finished," Ella said.