11 December 2018
FROM a "twisted mess" to the centre-piece of an award-winning development, Whitsunday builder, Leith Mitchell has built a breathtaking beachfront hotel around a rundown Huon pine prawn trawler.
The development, filling a vacant site at Woodwark around the bay from Airlie Beach, is the brainchild of Whitsunday-local, Tim Moon.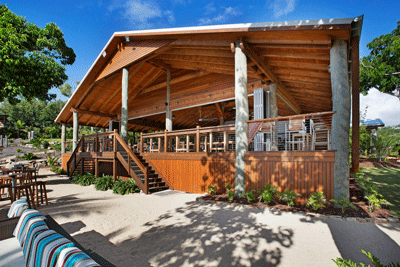 Leith said he came to be involved in the project very early on as a carpenter, contracted to build a natural bridge out of trees on the 20-acre property.
The next contract was for him to build ten "boats" and a wooden marina on the land, which would act as holiday accommodation, designed to look like boats in a jetty.
"It just kept rolling from there," Leith said.
The next project would be his biggest yet on the site; the brief – "a bar on the beach".
"It was definitely a little bit daunting at first, but by this time it was quite evident from the work that I'd done to date that I was able to handle it," he said.
"It ended up a lot bigger than anyone expected – it wasn't a normal job that's for sure."
The sheer scale of Northerlies must be seen to be fully appreciated. The wooden bar and restaurant, being built on the ocean, required the 12.5 metre long, three tonne timber support poles to be dug three metres into the ground.
"The biggest issue was the weight and height of the whole project. We used a 20tonne crane and the franna crane, and often had two moving at once," Leith said.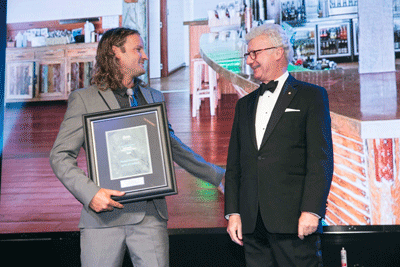 "Every day, there was plenty of time when I was scratching my head thinking "How am I going to figure this out". But the owners really worked with us and let us run with our own ideas too."
He said their biggest challenge was converting the Huon pine prawn trawler, transported on a semi-trailer from Bundaberg, into a bespoke bar for the facility.
"It was an absolute wreck," he said.
"It honestly looked like something that should be burnt; it was a twisted mess.
"I started playing with it, took to it with a chainsaw and chopped it in half. Then I cut the water-line and stripped it to create the overheads of the bar."
Leith said he wouldn't like to know how much time they spent bringing the old trawler back to life.
"Hundreds of hours," he said.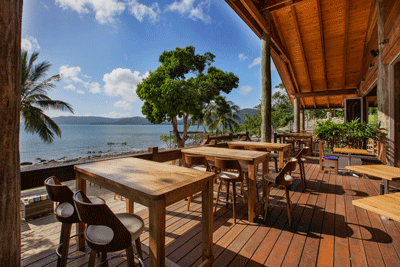 "We then had to lift the trawler into the tavern and build the entire facility around it."
For Leith, the highlight of the project was seeing the trawler in place once they had the roof on the facility.
"We could finally see what it would look like as a bar. We didn't know until the final stages if we'd have to cut it out and throw it away," he joked.
Leith said he was thankful and extremely fortunate to not have a strict deadline or timeline to adhere to for handover of the Northerlies at Freedom Shores project.
"The rural nature of the site definitely provided challenges," he said.
"We used diesel generators and had to do full water management systems.
"We also had a dirt road with a steep hill to access the site, and throughout the project there was about 10 to 15 semi-trailers bogged and we had to go up with an excavator to rescue them."
Three years on from the initial bridge project, Leith said he was incredibly proud of what they'd been able to achieve.
Winning Project of the Year, Retail Facilities up to $5 million, Tourism and Leisure Facilities up to $10 million and Commercial Building up to $5 million for Northerlies at Freedom Shores at the Mackay/Whitsunday Housing & Construction Awards, Leith said he never expected to take home a win at the Queensland Awards.
Leith Mitchell took home Retail Facilities up to $5 million for Northerlies at Freedom Shores at the Queensland Housing & Construction Awards on 12 October.
"To come away with that I was stoked and to see the other projects that it was up against, it's just incredible," he said.
---