5 December 2018
Duchess Constructions is a Mackay-based family company dedicated to quality workmanship at realistic prices. Headed up by Greg Walsh, the company specialists in renovation work to update or modernise the home as well as extensions and home improvement work.
How long has your business been operating?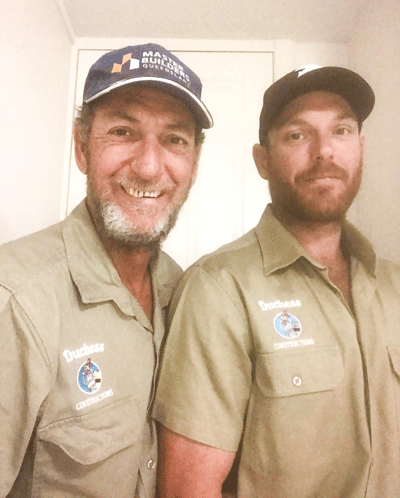 We moved to Mackay from Brisbane to frame a couple of houses 13 years ago. We're not leaving.
Tell us a little bit about your business.
Duchess Constructions is a father and son outfit. We mainly concentrate on renovationss, extensions etc. A lot of our work is State Government-based. We employ fantastic subbies. It's a good crew.
At what age did you start working in the industry? How did you get into it?
I was 15. Typically, I couldn't wait to get out of school. My Grandfather was a craftsman carpenter and joiner. All I wanted to do was build with Pop, but he passed before I started.
How do you get ideas for the work you produce?
Isn't that a trade secret?
What's been one of the most rewarding jobs you've done/creations you've made?
Handing my son a set of house plans and telling him he's in charge. Once he realised he'd done every little thing before and now he just had to pull it all together, and then watching him carry that job through. It was very satisfying.
What do you love most about your job?
Creating functional form, while adding individuality wherever you can. Is that esoteric enough?
What do you find most challenging about your job?
Finding time to work on my own place!
What do you like most about being a Master Builders member?
Accessibility to no nonsense advice, meaningful training and education and excellent golf days.
What do you wish someone had told you when you were starting out in the industry?
There's no such thing as a stupid question, but there is a dumb mistake.
What's been one of the most memorable moments of you career?
The day my son performed CPR on me for 19 minutes in our office. Kept me going until the ambo's arrived. That interrupted the staff meeting.
What's been one of the funniest moments of your career?
Having a customer who was watching us pour concrete for his driveway, start screaming "No! I want smooth like everyone else, not this lumpy stuff,!" as it came out of the truck.
What are your top three tips for anyone starting out in the industry?
If you don't love it, you need to get out. Never gamble more than you can afford to lose. Never buy cheap tools
What's the best advice you can give to someone about running their own trades business?
It's not all about money, but it is all about cash flow.
What is your formula for success in business?
Don't tell lies.
Complete this sentence: Every tradie needs a …
Holiday now and then.
What hobbies do you have?
I play a little guitar and sip a little whiskey.