State Budget 2023-24
Highlights for building and construction
The 2023-24 Queensland state budget is a missed opportunity to provide Queenslanders with measures that will ease the housing crisis.
The government has not heeded our advice and is hell-bent on going it alone and introducing changes as part of the National Construction Code (NCC) from 1 October 2023. These changes will increase the cost to homeowners wanting to build a home to the tune of $20,000-$30,000.
Given they are not budging on the 1 October implementation date or on providing sufficient exemptions that will help reign in the added costs, the budget was the perfect opportunity to provide some relief to homeowners and offset these costs via a rebate scheme.
A rebate would help customers offset the increased costs of delivering the changes and help ensure that new housing continues to remain viable. The framework is already there – rebates are provided for homeowners via the Household Resilience Program.
With costs blowing out, the number of new home contracts in Queensland is declining and 1 October will no doubt make this situation even worse at a time when Queenslanders need affordable housing.
While Master Builders welcomes the investment in the Build-to-Rent Pilot Project, social housing, hospitals and schools, the community as a whole won't benefit if we don't build enough houses to meet demand – further exacerbating the housing crisis.
---
During 2022-23 government revenue received an unexpected boost, resulting in a $12 billion surplus. This was due to an increase in coal and oil royalties (+$10.5 billion) and tax revenue (+$1.7 billion).
While the extra coal and oil royalties are not expected to continue, the government's revenue is expected to remain elevated over their four-year forecasting period.
This means a significant jump for the capital program. $89 billion is now allocated over the next four years. A massive $30 billion increase on the $59 billion committed in last year's budget.
For the coming financial year (2023-24) this means a capital allocation of $20.3 billion; 31 per cent up on last year.
Much of the increased spending will be directed to energy transmission and generation with an investment of an additional $3 billion, taking the total to $5.6 billion over 2023-24. Transport attracts the largest capital spend at $6.9 billion over 2023-24.
Spending is underway for the Brisbane 2032 Olympic and Paralympic Games with $1.9 billion allocated over the next four years.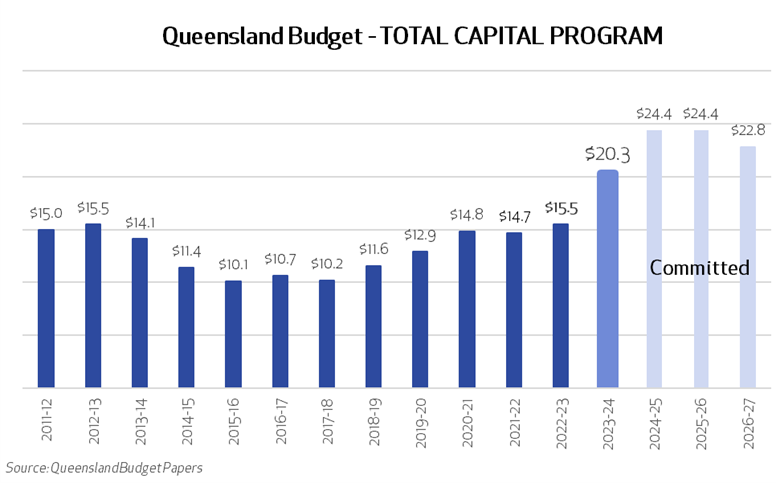 ---
Highlights
Housing
Housing was identified as a key area for government support.
Although dwarfed by the allocation to energy and transport there was a:
Commitment to an additional $2 billion for the Housing Investment Fund
$1.1 billion spend to leverage the delivery of social and affordable housing, and
Further $500 million in direct capital spend.
Spending also continues from the $381 million Resilient Homes Fund to raise, repair and retrofit flood-damaged homes.
Another lever is the Build-to-Rent land tax concession for developments that are 50 dwellings or more and provide at least 10 per cent of affordable housing.
It was welcomed that the government recognised that the current housing challenges are the result of the "inability of housing supply to keep pace with rising demand". However, the cause of that demand was misrepresented, being attributed to HomeBuilder grants and previously low interest rates. An increased demand that raises the supply of new housing cannot explain the shortfall that we are facing now.
The government's analysis misses the massive increase in people moving to Queensland looking for a place to call home. 44,000 new households in 2022 alone. We need to be able to get on and build.
Construction
There will be a focus on supporting women in male-dominated industries such as construction with $16.3 million allocated over four years to a range of targeted initiatives.
Regional spending
The proportion of spending that is allocated to the regions increased significantly, up from 30 per cent to 46 per cent.
The largest shifts will be experienced in Central Queensland, Wide Bay and the Gold Coast.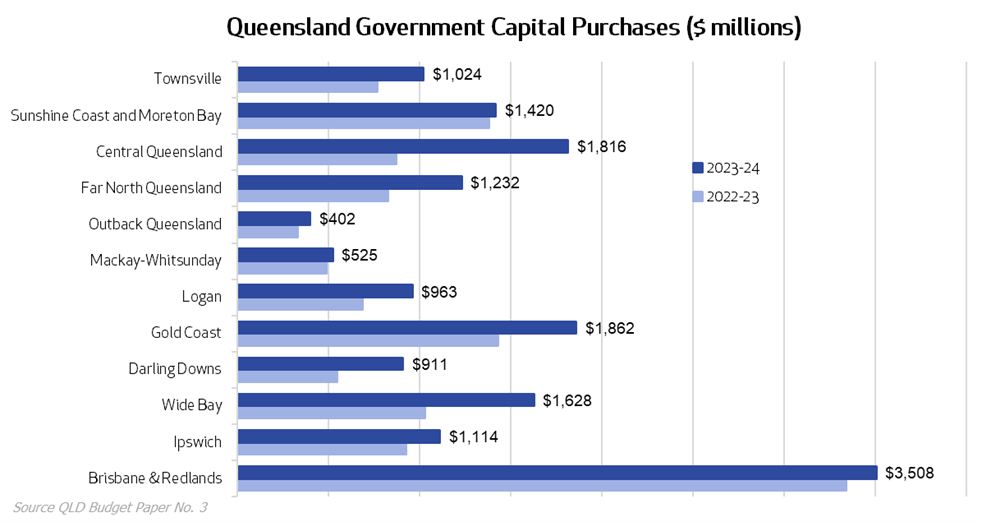 Some of the key projects include:
Fitzroy to Gladstone Pipeline – $548.5 million
CleanCo to develop renewables across Central Queensland – $171.1 million
New Toowoomba hospital – $50 million
Purchase energy from Kaban Wind Farm, Atherton Tablelands – $343.7 million
New Coomera Hospital – $74 million
Stage 1 of Mackay Ring Road – $22.5 million
Upgrading Bruce Highway between Caboolture and Steve Irwin Way – $42.4 million
Quilpie Shire Council employee accommodation – $1.4 million
Palmview State Secondary College continuation – $16 million
Connecting Kidston Clean Energy Hub to national electricity grid – $79.2 million
Widening shipping channels for Townsville Port – $60.7 million
Paradise Dam improvement project – $116.4 million
For a full list of all projects in each region, visit the government's budget website.
---
Key government forecasts
Following strong growth of 4.4 per cent in 2021-22, the Queensland economy is now forecast to grow a further 2 per cent in 2022-23 and strengthen to 3 per cent growth in 2023-24
The unemployment rate is forecast to edge higher, but stay low by historical standards, to 4.25 per cent in 2023-24 and 4.5 per cent in 2024-25
Queensland's population growth is forecast to increase to 2 per cent in 2022-23, reflecting a pickup in overseas migration. However, with interstate migration forecast to stabilise at pre-pandemic levels, the government forecasts population growth to ease back to 1.5 per cent by 2024-25.