BERT long course funding
The BERT Training Fund (BTF) assists in the training of workers in the building and construction industry who are members of the Building Employees Redundancy Trust (BERT).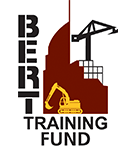 Through skills training, workers can increase their skills, knowledge and expertise. This leads to better employment options, higher wages and a more productive industry.
BTF will provide assistance in both trade and non-trade occupations and in the building, civil and engineering construction sectors of the industry.
BERT eligibility:
Be employed by a BERT member and/or
Be an employee of contributing BERT employers
BERT funds 100% of course fees for eligible students.
Funding is not available for students who are employees of state government departments or shareholding entities, or local government authorities.
You can contact BERT Training Fund directly on (07) 3833 1191 or email them for more information.
All funding is subject to availability at the time of courses scheduled and may change at the time of enquiry and enrolment.
Got questions about funding or need help?
Please call us on 1300 13 60 02, our friendly team are here to help answer all your questions!